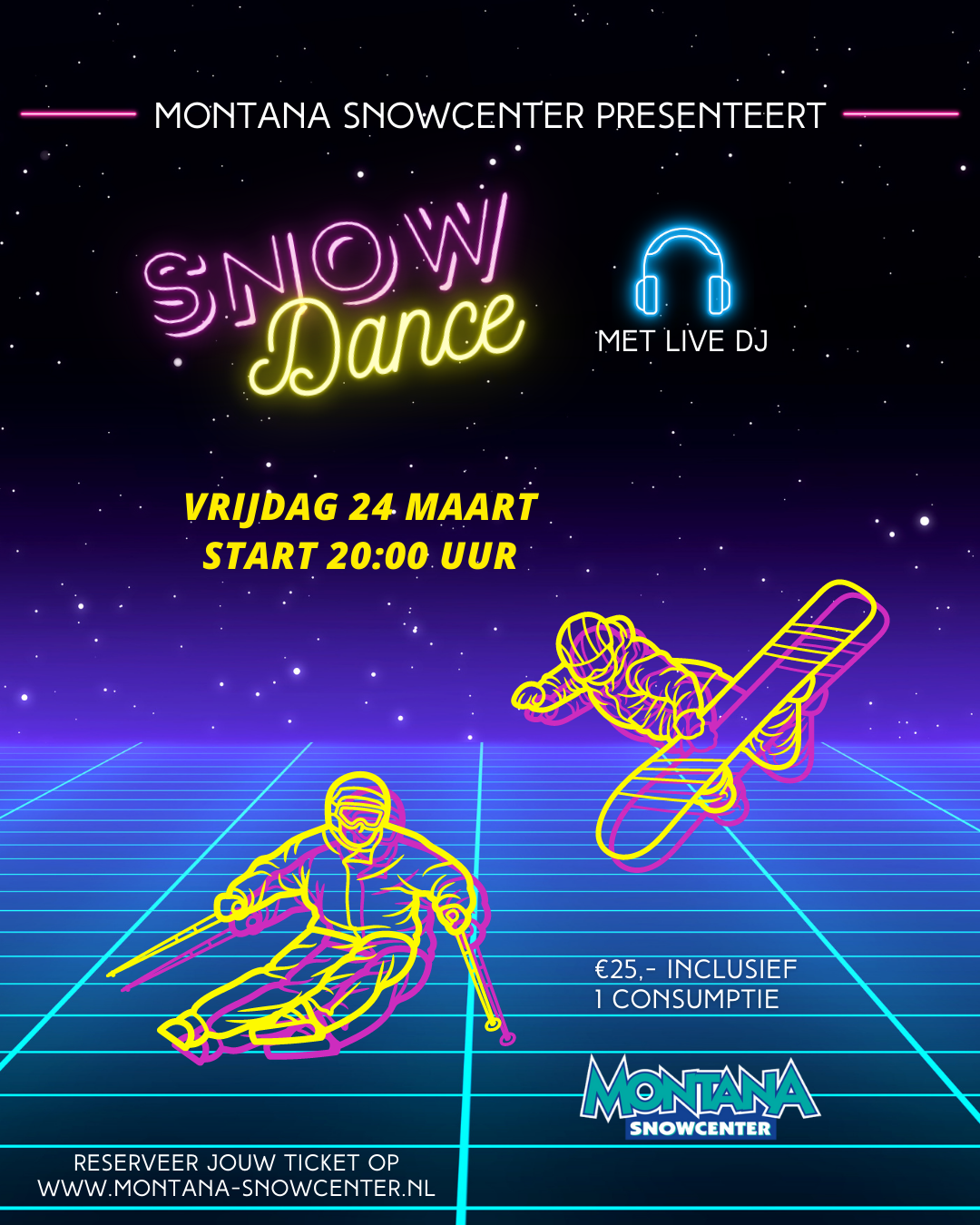 Snow Dance
Montana Snowcenter is organising the Snow Dance this winter: an affordable evening of skiing and snowboarding with live DJ on the slopes! Have fun in the snow, go wild to the hottest music and have a free drink at the Montana Restaurant. Enjoy the cozy atmosphere and have a lot of fun together with other enthusiastic skiers and snowboarders! For all ages. For freestyle enthusiasts, fun park obstacles are provided.
Go to Montana on Friday, March 24, for a super cool night!
Snow Dance from 20:00 until 22:30
Bar open until 23:00
Price is €25 including 1 consumption. Book your ticket online.
Price for year pass holders is €15 including 1 consumption. Tickets for year pass holders must be booked by e-mail. Send an e-mail with your name to info@montana-snowcenter.nl
On arrival, you will receive a consumption voucher at reception. You can hand these in at the restaurant until 23:00. Choice of soft drinks, coffee, tea and hot chocolate.
Snow Dance
€ 25 including 1 consumption
• prijs is inclusief materiaal

• prijs is exclusief kledinghuur

• prijs is exclusief helm (verplicht t/m 12 jaar)

• alleen voor geoefende skiërs en snowboarders*
* In order to be able to ski or snowboard freely with us, you need to be able to get off the slopes safely. Read our piste rule for more information.
Equipment/clothing rental
It is -5 °C on the slopes, so we recommend bringing suitable clothing.
Equipment and clothing rental is optional, but you can also bring your own gear.
clothing and gloves are not included
gloves are required
helmet is mandatory for children up to 12 years of age

poles are included and available on the slope